MAKE LUNCH COUNT!!!

Join us for the weekly Network Connection at Black Gold Golf Club!

Pre-Registered Members: $18 | At-the-Door Member: $23
Non- Members: $28

MEET . CONNECT . GROW YOUR BUSINESS

$36,231.51 in closed business among chamber members for the month of September 2019!
Thank you to our September Network Luncheon Sponsors!
2019 Yorba Linda
State of the City
Join Mayor Tara Campbell, the youngest female Mayor in the United States, as she shares her insight to the City's projects and initiatives and future planning efforts.

Wednesday, November 6, 2019
5:30 PM - 8:30 PM

Richard Nixon Presidential
Library & Museum
18001 Yorba Linda Blvd,
Yorba Linda, CA 92886
CBA Holiday Harvest Gathering
Wednesday, November 13th
6:00 PM - 8:00 PM

Attendee | $15
Exhibor Tables | $100

Yorba Linda Country Club
19400 Mountain View Ave,
Yorba Linda, CA 92886

The Chamber Business Alliance Business Expo is a great way to highlight your business while networking with other businesses
in the Region.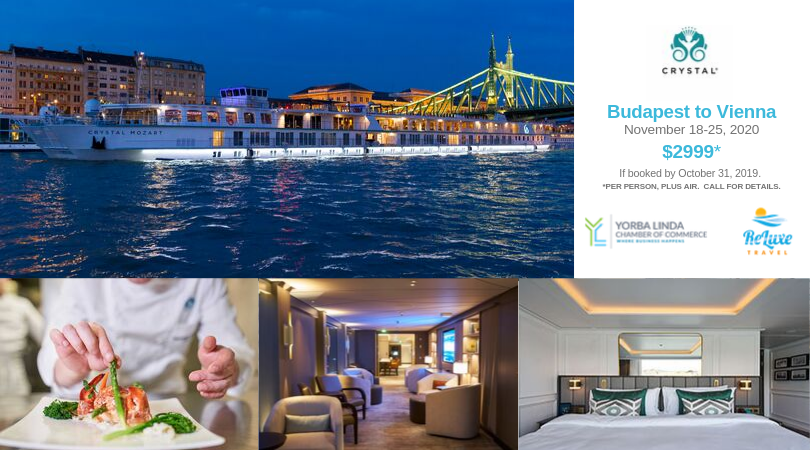 CRYSTAL RIVER CRUISES
November 18-25 | 2020

Danube Serenade Budapest to Vienna
Details and Registration: here
Best Available Suites - First Come, First Served.
Offer Expires October 31, 2019

Kathy Heinl of Relux Travel
(562) 713-2813
kathy@reluxetravel.com
Kelly Arnold of Yorba Linda Chamber of Commerce
(714) 993-9537
events@yorbalindachamber.com

Toner & Inkjet Printer
Cartridge Recycling

Drop off your printer cartridges to help benefit the
Yorba Linda Chamber Scholarship Fund!

17670 Yorba Linda Blvd,
Yorba Linda, CA 92886


Click here to unsubscribe.
View this email as a web page
Message sent by Yorba Linda Chamber, info@yorbalindachamber.com
Yorba Linda Chamber of Commerce | 4801 Park Ave | Yorba Linda, CA 92886